Features:
1 Programmable microcomputer controlled: immersion speed, submersion period, withdrawal speed
2 Touch screen interface
3 Multi-mode dipping
4 Vibration free immersion and withdrawal
5 Easy to use, affordable, desk-top
6 Compact: easily configured with a glove box
7 Equipped with a magnetic substrate holder
8 Customized substrate holder for irregular substrates
9 Least maintenance
10
CE certified
Description:
DipMaster 50 Dip Coater is a specially designed tool for performing the feasibility study of research & development in thin films and coatings from the experts in the dip coating technology.
It is compact and light for easy setup in the laboratory: fume hoods, glove boxes, magnetic stirrer, laminar airflow benches, etc. to be convenient to conduct experiment.
The maintenance-free feature comes from its ruggedness and simple design. The coater can be easily configured into a system to do a single solution coating or multiple solution coatings by the combination of the coater with the solution management modules.
Technical Specification:
Voltage: 110V/8A, 220V/4A
Dimension: 16 cm x 25 cm x 35 cm
Net Weight: 5Kg
Withdrawal Speed: 3mm-300mm/minute
Withdrawal Distance: up to 90mm
Substrate size: up to 50mm X 50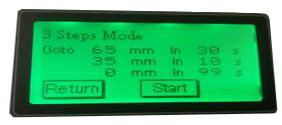 BySonia Monday, 30 March 2020
We buy chemat Dip coater 50 ,this one is compact one to do thin film .It is convenience to operate .